MINI ULTRASONIC CLEANER FEATURES: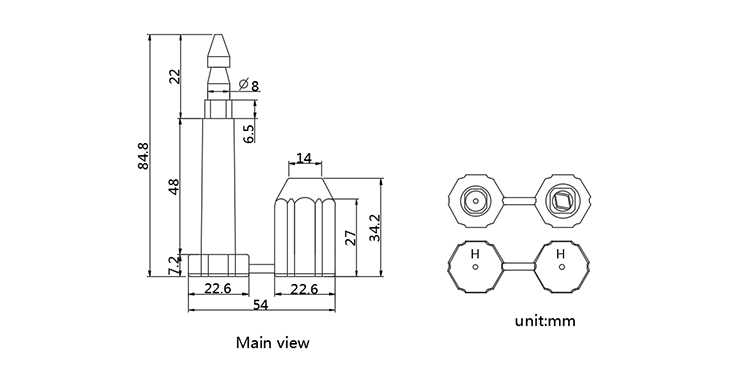 Product Name
PM-BS9201 customs ABS plastic cover shipping high security container bolt seal for truck trailer Lock
Material
Pin: Carbon Steel (Galvanized), High grade Q235A steel (pin & bush)
Cape: Polycarbonate plastic & Carbon Steel inner locking , ABS coated
height
85.0 mm
width
20.8 mm
diameter
8 mm
Shell Color
1.Red, yellow, green, blue, white, black, orange, pink,gray ,purple etc.
2.According to customers' requests ,PANTON color,meet all your needs !
Printing
1.Thermal stamping or laser printing
2.Customer's company name&logo, Sequential numbers
3.Bar code is available
Packing
10 pcs/ box , 50 boxes/ carton or 25 boxes/ cartonCarton Dimension: 45×30×32 cm
Used
Containers,Trucks,Doors ,shipping, cargo, transport
Certification
bolt seal with ISO9001, SGS ,High Security ISO/PAS 17712:2013 certified
Application
All kinds of ISO compliant containers,trailers, Trucks ,Van trucks,Tank trucks , Doors,cars,shipping, logistics, Postal services, Courier services, Bags, Airline Luggage,Airline,Liquor, Carts,Food Carts, Trolleys.
How to use
Easy to Apply
Simple, no tool application, break attached shaft and cap.
Remove by bolt cutter, and eyes protection is necessary.
Application : All kinds of ISO compliant containers,trailers,Trucks ,Van trucks,Tank trucks , Doors,cars
Packing
10 pcs/ box
25 boxes/ carton
Carton Dimension: 45×30×32 cm
Weight
1 pc net weight: 74 g
10 pcs in a box: 770g
500 pcs in a carton: 38.5 kg
Bolt Seal Description
-Heavy duty Bolt Seal
-Self-locking by finger pressure
-Carbon steel / Galvanized
-ABS plastic cover on body lock
-Any color is available on request
-Removed by bolt cutter
-Model: Container seal with ( truck seal, bolt seal, high security seal, cargo seal)
-Barrel features high impact ABS plastic molded onto high-carbon steel
-Bolt seal markings are laser engraved so the imprint cannot be easily removed or replaced
-Commonly used on shipping and intermodal containers, and widely used for ground transportation